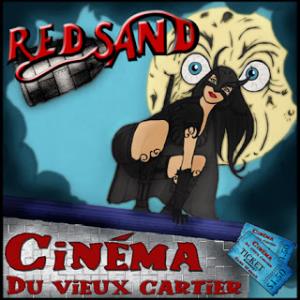 Their sixth album and the follow up to the 2012 album Behind The Mask.
Red Sand is a Canadian band. A neo prog band, no less. Their music is very much in the classic neo prog tradition with keyboards, vocals, guitars, bass and drums. The vocalist is trying to sing as operatic as Ange's Christian Deschamps without succeeding that much.
Cinema du Vieux Cartier is about the life in cinemas and in movies. It is a concept album with six songs, lasting fifty minutes. Red Sand still sounds like a mix of Marillion and Pendragon with a 1980s synths and guitar sound. They are a retro band, looking back to the golden age of neo prog.
The music is pretty, surprise surprise, cinematic here and I think they have succeed well in their concept. They are though limited by their choice to stick to the strict retro neo prog formula. A bit more symphonic music would not be a bad idea.
The lack of any great songs here is also another gripe I have got with this album. This is though a good album and a must have album for those retro neo prog, Marillion and Pendragon fans out there. I like this album.
3 points