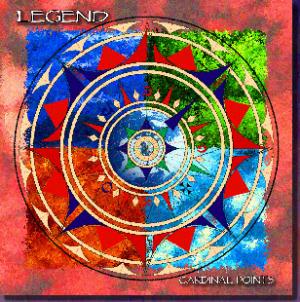 Legend is for me an unknown English neo-prog band. Cardinal Points is their fourth album since 1991. They have just released a new album called Spirit. Based on Cardinal Points, that album will soon be purchased too.
Neo prog is also a bit misleading for what Legend is doing on Cardinal Points. This to me is a fully fledged symph prog album. It comes with great female vocals from Kerry Parker and a full orchestral sound. The music is pretty complex too. Cardinal Points contains four songs and in total one hour music. The average song length is fifteen minutes. That is four epics.
The music is as I said complex, pretty baroque and very symphonic. Some of the music also reminds me about Renaissance. It has been said about Legend that they are like nothing else in the scene. I agree with that view. This album is one of a kind despite of the music being performed with keyboards, guitars, bass, drums and vocals.
This album is also a great album. At times, a jaw dropping album. At times, not so great. But never ever boring or dull. Always very interesting. This is a truly great album from a band who now have my full attention. I think they have just got a new fan.
4.5 points