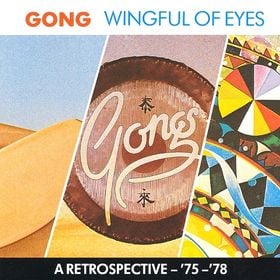 Wingful of Eyes is a career retrospective, covering the post Daevid Allen albums Shamal, Gazeuse and Expresso II. Three good albums in it's own right.
Virgin Records released this budget album to raise awareness of those three albums who were not selling that well and to boost the interest for this band. The one hour long Wingful of Eyes includes what Virgin Records thought was the best songs from those three albums.
I think these three albums stands perfectly well on their own feet and should not be chopped up as a food dish. But this budget album was probably a good idea anyway. The music here is jazz and fusion, the Pierre Moerlen way. Steve Hillage is also present here.
The end result is a good album, well worth the purchase if you can find a cheap copy. Those who already have the three above mentioned albums should not bother.
3 points