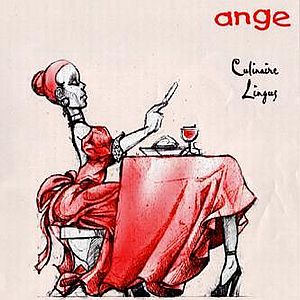 Their seventeenth studio album, no less.
Ange had been a lost case for many years as they were chasing commercial success with commercial pop/rock. With the exception of the 1989 album Sève Qui Peut, their albums since the 1978 album Guet Apens had been pretty poor. Culinaire Lingus was a welcome return to form.
Culinaire Lingus is not like their old albums either. Culinaire Lingus is a very complex album where the band pushes all their furnitures and carpets into a seventy-four minutes long album. It is a very theatrical album and I feel like it is almost like an opera. In this respect; some parts almost sounds like Magma. Culinaire Lingus is a very big mouthful and more than most listener can bite over.
In the middle of this; all the good old Ange trademarks is present. Christian Decamps vocals. Good keyboards and guitars. Intricate melodies and all the theatrical stuff has been extracted to maximum effect. The end result is a hard album to get into. It is also a very good album from a band I really like. The music is not immediate and easy to digest. But given time, this album is falling into place and becomes an album easy to like. Check it out.
3.5 points