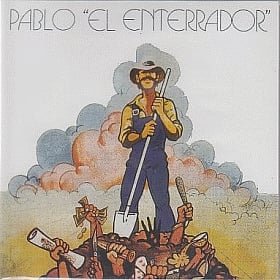 The debut album from this Argentine band.
The symph prog rock scene were dead and buried in 1983. Pablo El Enterrador arrived a bit too late with their symph prog. Music strongly influenced by both Genesis, ELP, Italian symph prog and the Argentine symph prog bands from the previous decade.
The music on this album is performed with keyboards, bass, guitars and drums. That and some very good Spanish vocals. The keyboards and Moogs is pretty dominant in the sound though. The music is symphonic with some lighter pop included too. Elegant is the word I would use on the music on this album. Slick is another word I would use too.
My gripes....... oh yes, I have my usual gripes..... is the lack of any really great melodies and songs here. This forty minutes long album comes up with some very good details, but nothing more than that. The sound is surprisingly good, though.
The end result is a very good album which would interest anyone into symphonic prog. It is recommended indeed.
3.5 points