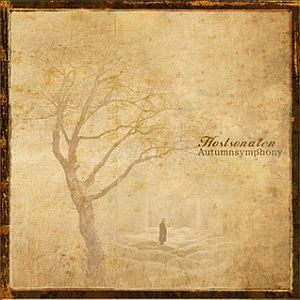 The fifth album from this Fabio Zuffanti project.
Hostsonaten has taken it's name from an Ingmar Bergman movie and is very much following down that theme on this autumn orientated album. Golden leaves and lots of cold wind. The nature is dying, only to wake up again a few months later. At least in Italy and in the northern hemispheres.
The album starts with a Miles Davis inspired jazz intro and I wonder if I am listening to the wrong album. After this shock, I am relieved to note that the album moves into a more familiar Hostsonaten territory with cascades of guitars, keyboards, bass, drums and various other instruments. We are deep into symphonic prog again. Instrumental symphonic prog.
The end result is forty minutes with very good instrumental symphonic prog which will please the many Hostsonaten fans out there and other fans of this genre. I am missing a great track or two some of the other Hostsonaten albums had. Something that grips me. That is missing here. Despite of this; this is still a very good album.
3.5 points