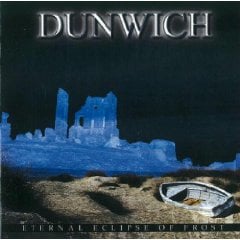 The third album from this Italian band.
Dunwich made four albums from combining folk rock with goth metal. Eternal Eclipse of Frost is no exception from this formula. Take some folk rock, a very good female vocalist, a lot of acoustic instruments, metal guitars, bass and drums plus operatic male vocals, flutes and violins. It is a formula many bands has tried and got commercial success with. I am not sure if this goes for Dunwich too.
It is pretty hard to spot any good melodies or songs here. There are some sporadic good stuff here on an album who suffers from a 1990s sound and excess all areas attitude. The metal drums, bass and guitar walls is annoying to say at least. It is the worst of German power metal. If combining water and fire, you get fog. And there is plenty of fog on this album.
Eternal Eclipse of Frost is a fairly decent album filled to the last forty three minutes with cliches and other nastiness from the 1990s. A weak two pointer of an album.
2 points