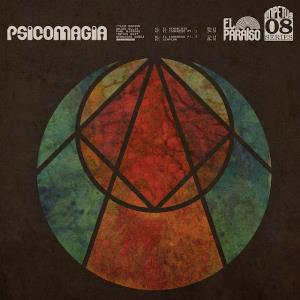 The debut album from this San Diego, USA band.
The cover art work kinds of gives away the game. We are going back to the late 1960s again. Back again to spaced out rock. Back to the likes of Soft Machine, Hawkwind and Pink Floyd. In particular Soft Machine. But also Magma and zeuhl too. And not at least fusion.
Psicomagia is four tracks, forty minutes with an intense downtuned fusion of zeuhl, jazz and space rock. Of Soft Machine, Magma and Mahavishnu Orchestra. Of dirty, hard hitting space rock. The sound is really dirty and spot on for this music. Music performed with Hammond organs, synth, tenor saxophone, bass, drums and some rather demented poetry reading male spoken words. Everything as intense as it can be. It is like being hit by a train, straight on.
The intense music is also very riveting and infectious. It is like Soft Machine at their most intense. The music is also great, all four tracks. Really tracks it is difficult to forget. I think this band has a great future as they are different from most other bands and that they will tap into the large Soft Machine and Magma fan-base out there. Success justified in my view. This is one great album.
4 points
The streamed album