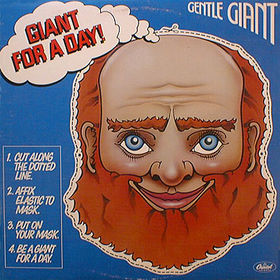 Their tenth album and not so happy anniversary.
The band was on a slippery slope to insignificance by now. The magic was mainly gone and what was remaining was this album.
Giant For A Day is a rock'n'roll album with some folk rock influences. Derek Shulman was still doing the vocals on the top of some keyboards, guitars, bass and drums.
The end result is a thirty-five minutes divided on ten songs. Ten short songs where nothing remains me about the Gentle Giant I love. This is by all means a pretty dire album and hardly even worthy a decent rating. I don't want to remember this band like this.
2 points