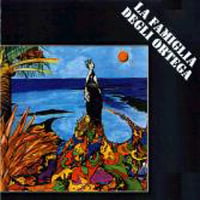 The only album from this short lived folk rock band from Italy.
La Famiglia Degli Ortega was a twelve piece band with two members from Venezuela which did two big festivals, the famous SanRemo festival being one of them, before they released this album and then disappeared again into obscurity. Nothing has ever been heard from them again.
The music on this thirty-six minutes long album is light and quite pop music orientated folk rock. The female vocals and harmonies are really great and their trademark. They had no less than five vocalists. Some of them even male vocalists. There are some great male vocals here too. All these vocals is backed up by piano, guitars, percussion, drums, keyboards and bass.
The band got a minor hit with the opening song Arcipelago. A good female vocals dominated song. The rest of the songs also have some good instrumental parts which is hovering in the background. The music here is pretty good. This is indeed a good album and one fans of song orientated Italian prog, folk and pop music.
3 points