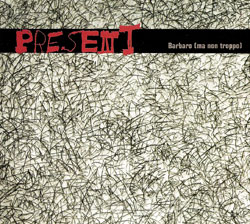 The seventh album from this Belgium based RIO band.
Present was a Univers Zero spin-off and one of the founders of the RIO genre. I regard them as one of the masters of sinister, dark avant-garde music. This very much applies to this album too.
Barbaro offers up three compositions, forty-five minutes of dark, sinister cinematic RIO where each melody lines gets plenty of breathing space. The piano throws daggers at the listener. The keyboards, guitars, tuba, saxophone and cello lays down a sinister sound. The drums and bass adds darkness to the sound too.
There is also plenty of beautiful, melancholic rays of sunlight in these three compositions. Not to mention majestic soundscapes. So much that the listener feels enthralled by this album and feels this album is something special.
The overall quality of this album is great and I rate this as the best album they have ever come up with. I rate it as one of the best ever RIO albums. It is an album everyone should have a copy of.
4.5 points