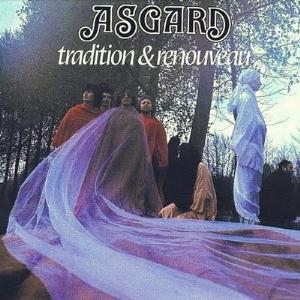 The second album from this French folk prog band. One of many bands with the same name.
French symphonic prog and neo prog is largely based on folk music and theater music. This folk and theater music goes back at least two hundred years. Bands like Ange and Mona Lisa distilled this tradition into their, the French highly original form for symphonic prog.
Asgard again did not go that extra mile towards symphonic prog. Nevertheless, those who love Ange and Mona Lisa will find a new friend in this thirty minutes long album. Those who love Harmonium's albums will love this album too.
This album is full of superb (French) vocals, piano, flute, violin, guitars, bass and percussion. Patric Grandpierre's vocals is superb and can be compared to the vocalist in Harmonium. The music is melodic, very melodic and epic folk rock. It reminds me about Jaques Brel and those greats from the French culture. There is a lot of keyboards in the sound and this album is by no means an acoustic album. It is fully electric. It also have a great ambience and sound.
My only gripe is the lack of a killer track or two. Hence my very good rating. Fans of French symphonic prog and the Canadian band Harmonium can safely purchase this album.
3.5 points