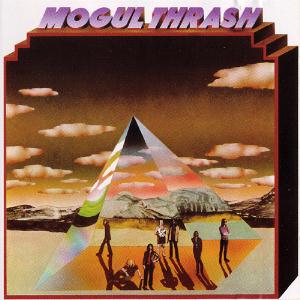 When the guitarist on the first two classic Colosseum albums suddenly found himself ejected from that band, he went his own way and created the short lived Mogul Thrash. This is their only album. Nothing was every heard from mr. James Litherland again..... although his homepage can be found
here
.
Anyway; the end result is this album. An album which is regarded as a semi-classic album. John Wetton from Yes also plays bass here. That has off course added to this album's prestige.
Besides of guitars and bass, this album is also enriched by plenty of woodwinds, drums and some very good vocals. If this sounds familiar, it is because this is identical to the Colosseum line-up too. This album sounds like their first albums too. We are talking bluesy jazz rock here with plenty of woodwinds and guitars.
The result is a good album with plenty of charm and life. I am neither a Colosseum fan or a fan of bluesy music. So this is not really my cup of tea. But I like this album a lot and find it a good album. It is well worth checking out and I think it deserves it's semi-classical status.
3 points