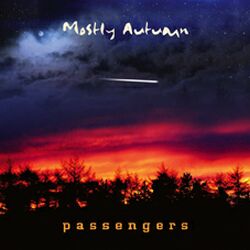 Their fifth album.
Mostly Autumn is an English band whose mix of celtic folk music and progressive rock influenced a generation of similar sounding bands. It took the band sometime to find their voice, though. They found it on this album. In my opinion, though. Many will disagree with me.
Passengers is an hour long romp through symph prog songs with strong celtic and folk rock influences. Heather Findlay's vocals is excellent. The same goes for the rest of the band. A bit pedestrian and mainstream rock at times. But flutes and the celtic sound saves the bacon many times. The balance is pretty close to perfect between the mainstream instruments like guitars and keyboards and the more celtic instruments.
There is also a lot of great details here. The vocals and the vocal harmonies is superb and really add warmth to this album. The title track is also a superb track. The rest of the album is also a joy to behold.
Passengers is a great album and one I very much enjoy. It comes highly recommended.
4 points