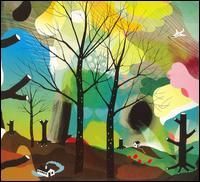 The second EP from this Danish post rock band and their fourth release altogether.
Clocking in at half an hour, this strictly limited EP offers up good value for money. That is, for those into this kind of music. A type of music that I find a bit difficult to explain. I will give it my best....
Cinematic pastoral post rock is perhaps not such a bad label on this music. The band's approach is like the zeuhl bands approach to jazz. Fill the sound with woodwinds, violins, cello, keyboards, choirs, guitars, bass and drums. Let the music float instead of create clearly defined song structures. That is their sound and music.
The result is music which approaches both ambient music and classical music. It floats and floats around. It is also a good EP despite of being untraditional and is breaking a lot of conventions. If this sounds tempting; check out their albums as it contains more of the same. A weak good is awarded.
3 points