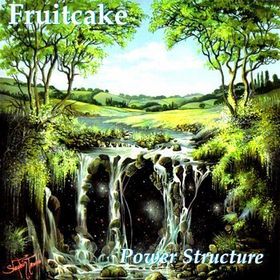 The fifth album from this Norwegian neo prog band.
Fruitcake is a strange band in many ways. Their mix of neo prog and symph prog with some added Norwegian naive sound is pretty unique. I would compare them to Prudence in many ways. Not in their music, but with their DIY attitude and naive sound. There is a bird with a broken wing feel over their music. Most of it is due to Pal Sovik's vocals which is special to say at least. Not particular good either.
On Power Structure, they have gone more symph prog than on previous albums. A rich and majestic keyboards sound is obvious a big help to them. The guitars too is also majestic. The bass, mandolin and drums tags along on this journey too.
The result is a good one hour long album with some very good melody lines. Even the vocals is tolerable on this album. Well, it is their trademark. I still recommends this album.
3 points