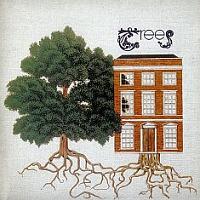 The first of two albums from this English band. Both of them released in 1970. Curiously enough.
Trees was a five piece band with female vocals, guitars, bass, keyboards and drums. The music here is folk rock with some psychedelic rock and flower power influences.
Trees was pretty much slaughtered by the press for being a Fairport Convention ripoff back in 1970. I have to admit they got a point. Trees did not have Richard Thompsen and Sandy Denny though, although the vocals here are very good. So is the guitars too.
The music is also very much more traditional folk rock than Fairport Convention was back in those days. This may be down to the band's limited abilities. Not that they were bad musicians. It is just that they were not brilliant musicians.
The Garden Of Jane Delawney is still a forty-five minutes good album. It is a bit too pedestrian during the first two songs. But it does open up a lot during the final twenty minutes with some good folky psychedelic rock.
This is a good album and one folk rock fans must check out.
3 points