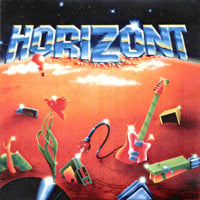 The first album of in total two albums from this Swedish band. A band who features the famous Swedish artist Tommy Nilsson on vocals. This album was in fact his first ever album of many, many albums. Most of them in the disco and euro-pop genre. Horizont was also the first ever album from Jonas Isacsson who later played in the world famous Swedish band Roxette.
The horrible, horrible artwork (yes, I did consider to omit/ban it due to my good taste...) is probably why Wikipedia and others has labelled Horizont as a heavy metal band. Nothing could be further from the truth.
Take the first two Kaipa albums and pop/dull them down a bit. Then add some light jazz/fusion and tonnes of keyboards too and you get this album from this five piece band. The line up is Swedish vocals, keyboards, guitars, glockenspiel, bass and drums.
The jazz/fusion bits is very good at times. It has this dynamic fusion feel. Not overly technical and rather commercial fusion it is. It is still some very good fusion, although a bit too slick for my liking.
The pop and prog bits is not too bad either. There is no really great songs here and that is my main gripe with this album. The end result is a good forty minutes long album. Shame about the album cover....
3 points