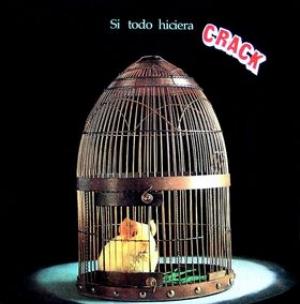 The one and only album from this Spanish band. It is also widely regarded as one of the best ever Spanish albums.
That is one of the best ever Spanish prog rock albums, that is. I am not sure what Spain has given other music genres though. They are pretty good on death metal and jazz too. So far, that is all I know.
Crack was a five piece band with a lineup of mellotrons, keyboards, flutes, guitars, bass, drums and Spanish vocals. A very effective lineup.
The music is symphonic prog with a lot of early Genesis influences and some Jethro Tull influences. But mostly Genesis and a lot of Italian symphonic prog influences. The music is on the pastoral side and somewhat dramatic. But mostly pastoral. Crack very much created their own sound and music here. I guess other bands has copied them.
This forty minutes long album offers up some very good mellotron, guitars and vocals. The rest of the instruments are good too. The end result is a very good album which I do not rate as highly as most others has rated this album. This album does not have the great songs I am looking for. It is still worth purchasing.
3.5 points