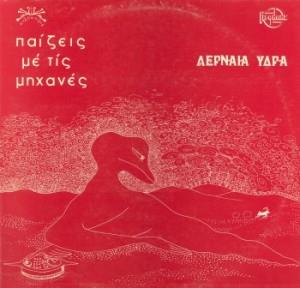 The second album from this Greek band.
I pretty much liked their debut album Se Allous Kosmous from 1976. A pretty good folk rock album with some psychedelic rock.
The band were back again in the recording studio again and released this album. The band were a five piece band here with a harmonica, Greek vocals, keyboards, mandolin, banjo, violin, guitars, bass and drums lineup. A folk rock line up in other words.
This forty minutes long album has a pretty good sound. The band has shed some of the psychedelic rock sound and gone for a much more blend of folk music and rock. The music is much more rock than folk music, though. It is a much more commercial album which would appeal to the record buying Greek population. This is a mainstream Greek rock album.
The result is a decent album. It has some cringe worthy stuff and some rather good stuff. The vocals are pretty good and ditto for the musicians. There is not much interesting details. Some of the songs are very simplified and well into silliness and teenybopper rock music.
But check out this album if this appeals to you.
2 points