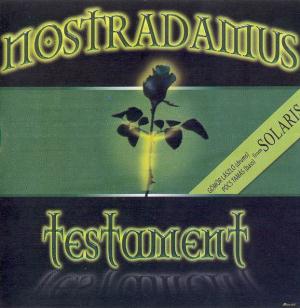 The one and only album from this Hungarian band with some Solaris members.
Nostradamus was a five piece band on this album. The line up was piccolo, alto flute, flute, keyboards, piano, guitars, bass, drums and some vocals. The vocals are in English.
My heart sinks a lot when I hear flutes and piccolo on the top of some gothic keyboards and guitars. Gothic music is too cheap and nasty. It is very much a show stopper in my case and I am starting to cringe.
Although this album continues in the same vein and never really grows out of the gothic sound, there are some really good melodies here. The piano also plays a soothing role on my anger and I am starting to like what I hear around halfway through the album. That is halfway through the album x some listening sessions.
It is still not an album I overall really like. Too gothic and too much full of old ideas from other bands. This is an album somewhere between decent and good. I hope Solaris is a better band than this band as I am about to review their albums.
2.5 points