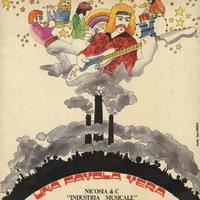 The one and only album from this Italian band.
I have heard the expression "big band Italian prog rock" being used on this album. It is indeed a very good label on this album. The band name is big and it had around twelve musicians. The lineup was everything from Italian vocals to woodwinds. Include xylophones, flutes, bass, keyboards, guitars and drums too and you get the picture.
The sound is indeed the big band sound with lots of lots of brass and woodwinds. But there is also place for xylophones, flutes, guitars and keyboards here. Not to mention the very good vocals too.
The music though is pretty much standard Italian progressive rock with some pop, jazz and folk influences. Lots of it, in fact. The band just uses a lot more instruments than other bands on this forty-five minutes long album.
The end result is a good album. A good Italian prog rock album which should appeal to everyone into this scene. It does not have any really great songs though and that is my gripe with this album. Check it out.
3 points