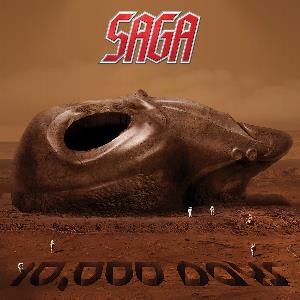 The 18th album from this Canadian band.
Can you teach an old horse new tricks ? That is my immediate thoughts after some listening sessions spent on this album. Saga has always been rooted in this Human League and the British new romanticism movement which sprung up as a reaction to punk music. This was back in the early 1980s. The difference between that movement and Saga was that Saga's music was more heavy and punchy. They played pomp rock and released some hit and miss albums.
Not so on this album. This is very much a Saga album, looking back towards their best albums from the early 1980s. But they have also gone progressive rock on this album. They have always been thereabout throughout their career. It was indeed Saga who introduced me to progressive rock and this band has a special place in my heart. Nevertheless..... Saga has never released a progressive rock album...... before this album, that is.
The guitarist Jim Crichton gets a bit of a free reign here on many long and progressive sounding guitar solos. Saga has always been running a tight reign on solo excesses. Not on this album, though !
The solos is kind of getting too long here. This album still retain all the DNA's from Saga. That is both good and bad. There is no really great tracks here.
That said, this is a very good album which has really entertained me and rekindled my desire for this band. Oh, they got a special place in my heart, indeed.
3.5 points