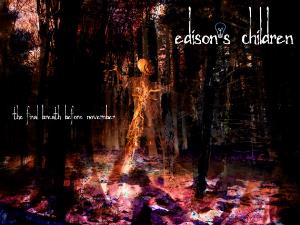 The second album from this super-duo of Eric Blackwood and Peter Trewevas. They have expanded to a super-trio on this album with the inclusion of Henry Rogers from Touchstone.
Those who loved their first album will also love this album. Let me put it that way. Edison's Children has always been about emotional charged neo-prog with some avant-garde and strange forays into vaudeville heavy metal.
There is a lot of guitars, bass, drums and some keyboards here. The vocals are great. The guitar solos is very good too. Comparisons to Pink Floyd has to be made.
The melodies on this seventy minutes long album is mostly straight melancholic. The themes are perhaps overused during these seventy minutes. Or they are completed just in time.
The end result is a great album which has a couple of dubious tracks in addition to some really superb tracks. The average is a great album and that is my rating.
4 points