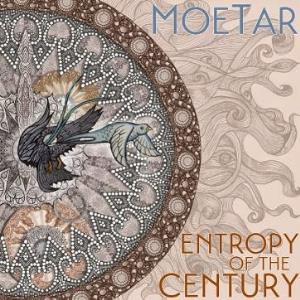 The second album from this US band. A band recommended to me by the great writer Rafaella Berry from ProgArchives and the
webzine progmistress.com
. So I got this album. And now, I have also ordered their first album too.
Moetar is a new name to me. This album has been released through the Magna Carta label and the band is a six piece band. The setup is guitars, keyboards, bass, drums and vocals. Female vocals by Moorea Dickason. She has a great voice and is to a large degree carrying this album. Both with her single vocals and multiple layered vocals.
For her vocals to be great, she need some music to work on. And the music here is best described as modern retrospective American progressive rock. Retrospective because it is looking back the the 1930 and the genres back then. Vaudeville music, circus music and ragtime. The songs on this forty-five minutes long album is really quirky and off kilter. But that is progressive music for you and Moetar is progressive. I am not sure which century they are referring to in the album title. But that is another day, another mystery.
Moorea Dickason's vocals is everywhere and it is fair to say that the music here is pretty much vocals based. That is good and well as I am not sure if their music is not that suited without her vocals guiding it through this quirky soundscape. The instrumental bits we find here is very good and the band is doing a great job.
There is no truly great songs here and that is my only gripe with this album. That aside, this is a very good album. I will give their debut album a piece of my mind too when I get it.
3.5 points