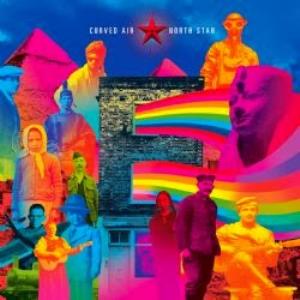 Their eight album, released 24 years after their last album Lovechild and 44 years after their debut album Airconditioning. Their final payday ?
Wrong !! The phrase "final payday" means one lousy, half-baked album to milk the last dollars from a career. North Star is certainly not a "final payday" album. The band has been touring quite extensive and I guess touring means new ideas and new music. And there is nothing half baked about this album either. A very long album it is too. A double LP in the good old days.
Besides of a great version of the Beatles classic Across The Universe, the original stuff here sounds very vital too. Sonia Kristine's voice has her limits, 44 years after she debuted. That goes without saying. She is a smart, very smart vocalist/human being and sings within her limits. The rest of the band does a great job too.
North Star is also a fine return to the core of what most people would regard as the true classic Curved Air. A lot of jazzy and folky progressive rock with Sonia Kristine's vocals incorporated. Those who loves the first four classic Curved Air albums will find to their joy what this album is for them.
Well, you can add North Star to those four albums. There is no real great new songs here. Nevertheless, this is a very good album from a band who takes great, great pride in the Curved Air name and everything good this name stands for. The band is now touring and please make sure you catch them on this tour. Curved Air is very much alive and kicking.
3.5 points