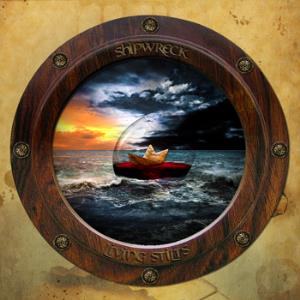 The debut album from this Italian band.
Progressive rock is the order of the day. But not Italian progressive rock as we knows it. The band is wholly inspired by the English scene and this sixty minutes is indeed a full on English prog rock album. That means English vocals, guitars, keyboards, bass, narration, choirs and drums.
Yes, this is a concept album about shipwrecks. The perils of the sea and all that. It is also a rock opera. It is more a rock opera than a concept album. So we get an hour long rock opera here with music the band can take to a stage and perform as a rock opera. For all I know, the answer is on their homepage, that is what they have been doing and is doing with this music.
There is a lot of theatrical sounds here with a ship bell chiming and all that. That inbetween some songs too. Some of the music is instrumental and some songs are with full vocals.
The music is not too bad although I suspect this piece of music is better on a stage with actors than on this album. I have belated landed on a good award. Fans of Camel and rock operas would land on a far better rating. The smell of Camel is everywhere on this album. You can also add neo-prog and the Kompendium project as references. It is a good album, but I am not convinced I ever want to hear this album again. This rock opera deserve a stage and not only a sterile album environment.
3 points