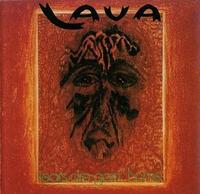 The one and only album from this German band.
It may not come as a surprise that we are again facing up to a krautrock album. Lava was a pretty successful live band before they took the plunge and recorded their material. Unfortunate, the main composer died shortly afterwards and the band were disbanded.
Take a solid dose of blues and add an ever bigger dose of psychedelic rock. Then add some electronica too. Yes, this is all what krautrock is about. Mainstream krautrock. Lava is very much in the mainstream of krautrock.
The songs goes from hard rocking blues to a more melancholic psychedelic theme to avant-garde electronics. This album has it all. It also has some very good vocals, guitars, keyboards, drums, flutes and bass.
It also has some very good songs too. The opening title track is the best one here. The other pieces are good to very good too. The end result is a very good album everyone into krautrock should get themselves.
3.5 points