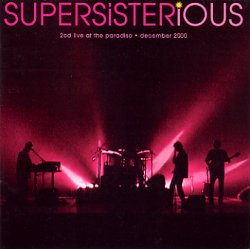 It is a shame that this double live album is out of print. I got their pretty hard to find first two albums and I moved heaven and hell to get this album. Which was a wise move from my part.
Most of the stuff is taken from their first two albums. Both of them are pretty much regarded as classics. That alone makes this a good live album. But Supersister also adds plenty of whimsy eccentricity and life into the live versions of these songs.
The music is very much in the Canterbury scene vein, not millions of miles away from Caravan (add Focus into the mix too). Supersister is certainly more structured melody orientated than the more jazzy bands from this scene (Gong, National Health). It is ironic that one of the best, if not the best Canterbury scene bands are Dutch. I am even not sure if the guys in Supersister has ever visited Canterbury. Who cares ? They are great !
Not all the music on this two hours long album is fantastic. There are some talking and funny German bierkeller pieces of music. The band obviously enjoys and indulge themselves on the scene and that is very evident. But most of the music is jaw-dropping superb. This being a live album, I would also recommend the studio albums. But this is indeed a fantastic live album. It is an essential Canterbury scene album. I just hope it could be more available because everyone into the Canterbury scene should own a copy of it.
4.5 points