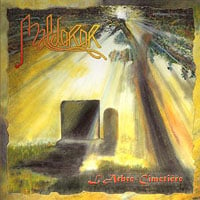 A French band taking up the legacy left by Ange and the 1970s French symph prog scene.
The comparison with Ange is obvious. L'Arbre-Cimetière has the same fluent, lyrically pastoral symph prog as them. The sound is excellent and the same goes for the musicianship. The theatrical French vocals is a joy to behold although I do not understand a single word French. But this language is perfect for this music.
My gripe with this album is the lack of any really great song. Great melody lines is scattered around this album, but Maldoror has not managed to string them all together in coherent units. This is their only album and it is eight years old. I get the feeling that Maldoror had a lot of potential, but it has never been fulfilled. Which is a great shame. This album is a very good album, but nothing more.
3.5 points