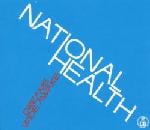 Oh dear.
The artwork/cover is very bad. Marine blue with white print......... give me strength !! The 8 page booklet is not as bad as expected. Page 2- 3 lists the musicians on every track. Page 4 - 7 contains a good National Health biography, signed by Alan White. Page 8 contains the track list. What the booklet or the J-card does not include, and this is major flaw with this release, is the useful fact that all the tracks on this double CD has been taken from both National Health and Of Queues and Cures. There is no mentioning of these two albums whatsoever. This glaring omission is........ what can I say, like throwing sand in the eyes of the buyer. This is why I feel slightly ripped off by this album. Because there is nothing on this album you cannot find on the two above mentioned albums.
Another sore point of this album is the fact they have taken out all the tracks from National Health and Of Queues and Cures and just mixed the track listings together to create this album. The album starts with the fourth track from Of Queues and Cures (Dreams Wide Awake), followed by the fourth track from National Health (Borogroves, part 1). I can go on and on, but I guess you get my drift here. The music itself is not bad at all. Both National Health and Of Queues and Cures are expensive and difficult to find these days so I may suggest this album may solve a problem if you are desperate to get hold of these albums, like I was with Of Queues and Cures.
The music itself is superb and I cannot fault it whatsoever. I guess it has been taken from the original albums without any more treatment whatsoever. The sound is good. But I do not like the presentation of the music on this album. That's why I dish out two points.
2 points