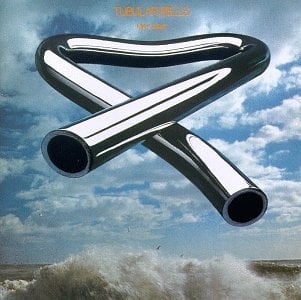 This album's reputation is far bigger than the album. We are talking about one of the icons of the history of British recording industry. Last year, it was even been included as a free CD with one of the big newspapers here in the UK. So how do you approach an icon ? Walk around it and marvel at it's reputation ? Grind it down just to show that you are not in awe of this icon ? Or just take it for what it is; the debut album from Mike Oldfield ?
The opening minutes of this album, Part 1, is almost as iconic as a play by William Shakespeare. The music then settles into an acoustic bit with heavy use of mandolin. This part and most of this album has a New Age, medieval feel and some long stares back into the history of Great Britain. Well, that's the vibe I get. The music is good, although not superb. The track then ends with a variation of the opening minutes of this track. I rate the 25 five minutes long Part 1. I think it is good, although it sometimes loose it's way.
Part 2 is not as good as Part 1. The music tends to be forgettable and the introduction of electric guitars does not feel as good as the pretty acoustic part 1. The use of voices here does not particular please me either. It feels like another album than part 1.
When I do up the sums; I feel that the status of this album is far bigger than it's musical value. For me; it is only a 3 points album.
3 points