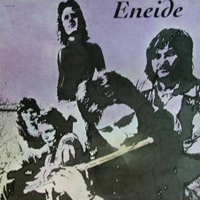 Another one of the RPI one albums band.
Eneide came, saw and disappeared again. The album was released long after they disbanded as per usual in the scene.
The music is really typical RPI. A mix of some heavy songs and some more pastoral songs. From heavier prog to pastoral prog and folk rock. A mix of Biglietto Per L'Inferno, Banco, PFM and the more folky bands in the RPI scene. But they also sounds like Jethro Tull with the flutes and their folk rock. Some parts of this album also sounds like Genesis too. There is a lot of vintage keyboards here and some great vocals. The vintage keyboards does it for me. The drums are also great too. The same goes for the sound.
The music is very good throughout. A true superb song or three would had elevated this album up a notch. But this is an arch-typical RPI album and well worth an investment for both RPI fans or those curious about this scene.
3.5 points