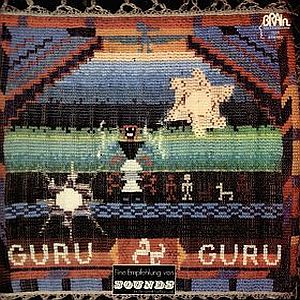 Now I get the reference to the good old Bo Diddley on one of their previous albums.
While that album only included one reference to this late rock'n'roll and genre defining US rocker, this album (Guru Guru) is full of these references. A lot of the music here is not much different from what Bo Diddley did in his heydays and until he passed away in 2008 after half a decade as a touring and recording artist. In other words; at least half of this album is Guru Guru's take on rockabilly/rock'n'roll. They sounds like Stray Cats at time and that is not a compliment. The remaining stuff is weirdo krautrock as we are used to from this band.
This album is by all means a weird album. The quality is not that good either. It feels like a tribute album gone wrong. Not to mention; weird. This is not an album I would like to remember this band for. There are some good stuff here, but not enough to defend the good reputation this band has got.
2 points