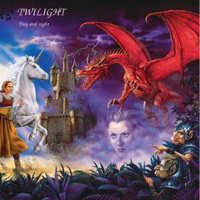 The only sign of life from this German band.
My first thought when I looked at this album was "oh, no. Not another power/heavy metal album !!". The fantasy cover art work is very typical for that not so beloved genre. Not in my house, at least. Millions of others begs to differ.
Thankfully, I was wrong. What we get from this four piece band is a mix of psychedelic rock, pure rock and heavy rock. The guitars are raw with some solos. The vocals are also very rocking. Ditto for the bass and the drums.
The sound, even on Garden Of Delights' re-release from 2000, is also pretty dirty. But it is also faithful to the 1975 sound. This is very much a 1970s album in both music and sound. And it is not a bad album either. It reminds me about Bad Company at times. This forty-two minutes long album does not really have any great or even good songs. That is my main gripe, my only gripe with this album. Hence my frugal use of points.
2 points