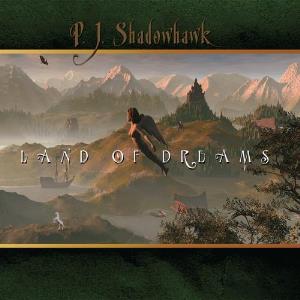 The debut album from the US drummer PJ Shadowhawk.
PJ Shadowhawk has played with UK's Quasar and with Gabriel Bondage in his long career in music. Now, he has finally taken the step up and gone fully solo with this album and a new album this year. Both has been dragged through my cat-flap. My cats likes good, colourful covers.
All instruments is done by PJ Shadowhawk with the exceptions by guitars where Evan Raymond has helped him out. The sound is good and the music is well played. The vocals is a bit dubious, though.
The music here is a mix of synth dominated long melodies/suites, some psychedelic melodies and a couple of AOR sounding proper songs. There are a couple of very good songs here in the AOR vein. The psychedelic stuff is also good. The suites is not that good. I am most of all happy with the diversity of this album and the work put in here. There is no doubts Mr. Shadowhawk knows his trade and I am really looking forward to give his new album the full listening sessions treatment.
This album suffers a bit from the debut album finding my way syndrome. It is still a good album, well worth checking out.
3 points