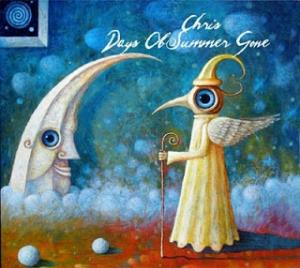 The fourth album from Christiaan Bruin from Holland.
I reviewed his two first albums some time ago in ProgArchives and noted that he was one of the biggest new hopes in the European prog scene. I somewhat missed out on his third album, I believe. I cannot remember I have reviewed it.
Chris has always operated somewhere between symphonic prog and neo-prog. On this album, he is far more in the symphonic prog camp. Add some folk rock too and you get this. The music is created with moog, melotrons, keyboards, guitars, bass, drums, piano, cello and woodwinds. That and his own vocals.
The mood here is pastoral throughout. The music is a bit cinematic and has got a lot of theatrical feelings in addition to some folk and neo-prog influences. The basis is symphonic prog throughout on this one hour long album.
This album is not really an immediate hit album in my ears. It is an album which slowly creeps up on the listener and then embeds itself in the ears of the fortunate listener. It has this creeping pastoral feel where the main theme is very infectious. This one hour long album also sounds like one song and not many different songs. It is one piece of music.
This is by all means a great album with a great theme flowing through it. I cannot fault this album on anything, besides of just missing the dot over the i. This album is a joy for my soul and my brain. It is a relaxing album too. I highly recommends it.
4 points