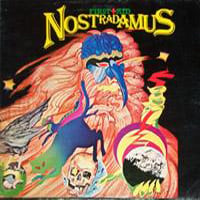 The one and only album from this English band.
It is said that this album was supposed to be the final hooray from the symphonic prog scene. Punk was all the rage those days and the band showed the middle finger to it all by going back to 1970 with a deliberate pretentious album.
And they succeeded. There are narrated vocals here, a symphony orchestra, long winding melodies, a mad concept about obscure historical figures, overly dramatic music and cheese all around. Even by the 1970s standards, this is a cheesy, pretentious album.
Besides of the symphonic orchestra, you get keyboards in the vein of Keith Emerson, guitar solos, bass and drums. Yes, and some vocals too. The lyrics is barking mad cheesy. The sound is very typical 1970s.
Funnily enough, this kind of works. OK, there are no real good melodies here and the this cheese board is perhaps best forgotten and/or to remain obscure. But the band got what they were after. It is a very decent album too. I did not enjoy it much, but it has it's qualities. Check it out.
2.5 points