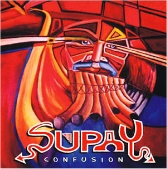 The debut album from this Peru based band.
The west coast of South America has got some pretty good folk rock bands now. I spotted an advert for a two days long folk rock festival in Chile this summer and the list of bands were impressive. Supay is one of the big names on that festival and I wanted to check their albums out. Hence this review.
Supay, which means god of death and a demon in the old Inca religion and tradition, does a mix of traditional folk music and pretty heavy rocking rock'n'roll. The album starts out with pan flutes and the South American folk music. Then we get some thunderclaps with heavy rock before the album settles into a more psychedelic South American folk music with pan flutes, jazz and heavy guitars, bass and drums.
Several people I know has commented that this album is a meeting between two cultures. The Western rock culture from the early 1970s and the timeless Inca culture from South America. I think this is an excellent comment on this album. The guitarist goes on several long guitar solos. The pan flutes drags us back to Peru again. This makes it more a meeting than a clash because those two cultures goes well together on this forty minutes long album.
The result is a very good album from a band I think is pretty much unknown here in Europe. Which is unfair as this is a very good album I am sure more people will like. Check out this band.
3.5 points