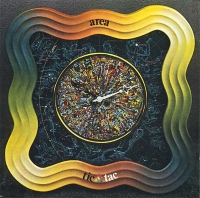 Their sixth album and the first album without Demetrio Stratos who sadly passed away in 1978.
This Italian band rightly got a legend status after their first four albums. Innovative, great albums. They were also built around the mad vocals and ideas of Demetrio Stratos. With him gone, what we are left with is jazz. As simple as that.
The jazz here is performed with bass, sax, trumpet, drums, guitars and keyboards. The sound is not particular good and this album is not sparkling at all. It feels a bit dead and buried. It feels like the remaining band members of Area is a bit lost after Demetrio Stratos sad passing. He passed away after a fight with cancer.
The bland jazz on Tic & Tac is not how I want to remember this band. The album is pretty dismal in it's dullness. A couple of half decent numbers means not a blank one pointer.
1.5 point