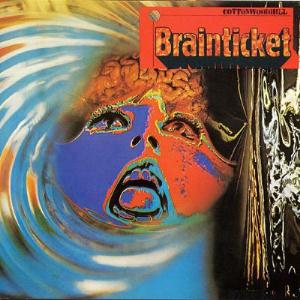 The debut album from this Swiss krautrock band. This is also my first meeting with this band as I bought some of their albums through Ebay some years ago.
Krautrock means a lot of different genres. In this case, it means a spaced out psychedelic spaced out trip into madness. Some has called this album heavy drugs on tape/CD/vinyl. Well, I have never tried drugs so I don't know. If this is the case, this album serves as a warning against taking drugs.
The first two songs, released as a single back in 1971 too, is both funky and symphonic krautrock with a lot of folk rock, jazz and fusion. Two very good songs. Very good eight minutes with great flutes, guitars and Hammond organs over one rhythm structure. The final part of this thirty-four minutes long album is the Brainticket suite which is basically one repeated hypnotic rhythm done by bass and keyboard with some insane female talking on the top of it. Not particular amusing at all.
So, the suite is pretty poor and the first two songs are very good. The end result is a very decent album and not a converted fan in the form of this reviewer and krautrock fan. I hope their other albums is better than this one.
2.5 points