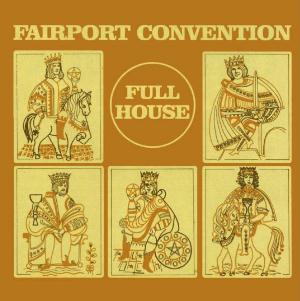 The fifth album from this English band.
Sandy Denny departed the band before the release of this album and left Richard Thompson and Dave Swarbrick to fly the flag. Those two and three others. The loss of Sandy Denny heralded a new beginning for the band. A new beginning which does not include female vocals on this album. What we get is some excellent violins from Dave Swarbrick and Richard Thompson's guitars. He is one of the best guitarists we have ever seen and he proves that on the tracks here. Not in barnstorming guitar solos. But rather in more discreet guitar pieces intertwined with the rest of the music here.
Full House is on the surface a return to standard folk rock. But go down below the surface and we find a pretty eclectic album with Richard's guitars and some good melodies and twists. The vocals are good and so is the mandolin, bass and drums too.
My two gripes is the pretty poor productions and the lack of any great songs here. Besides of that, this is a good album which I believe will grow on me in my later life. I really like this band !
3 points