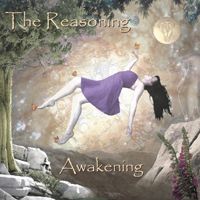 I discovered this English band through their And Another Thing EP released earlier this year and I went forthwith and purchased the rest of their albums. That includes their new album.
Awakening is their debut album. The Reasoning was formed by ex Magenta and Karnataka members. They falls into this British female vocals lead prog/art rock bands category. A category with a lot of fans and support from Prog Magazine and the rest of the rock media. With good reason, I have to admit. I have previously slagged off Prog Magazine for supporting these bands. When facing up to albums like this album, the medias who hypes this genre has a good cause.
The Reasoning is one of the better bands in this genre and proves that on Awakening. Very intelligent neo prog/art rock with both some folk rock and prog metal influences. All songs are good. The use of both male and female vocals is great. Both Rachel Jones and Dylan Thompson deserve praise for their vocals on this album. Vocals which reminds med a lot about Touchstones, the first band from this scene I really got into. No wonder these two bands are touring together with sponsorship from Prog Magazine.
The best song is the Mostly Autumn like closing song With Cold Glass. The other songs are also very good and that makes Awakening an impressive debut album. I am intrigued.
3.5 points