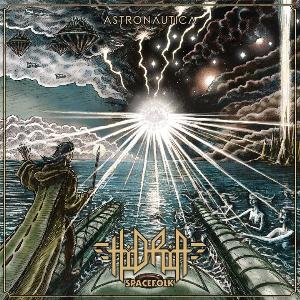 The fourth album from these Finnish space rockers. This band has been compared to Ozric Tentacles during their whole career. Luckily for them, I don't know that band or music. So I got no clue.
Hidria Spacefolk does a highly energetic, heavy form of space rock. The music on this album is not as spaced out as I expected. It is closer to instrumental prog metal and fusion than space rock, really. There are even some symph prog and electronica in their music. They also uses some keyboard runs I guess they have borrowed from symphonic black metal.
The music has got tonnes of guitars, keyboards, drums and bass. Some added vibrafone gives their music some extra textures. The music is instrumental throughout.
The music is very flowing throughout. So much that the fifty minutes of music passes through effortless. There is hardly any contrasts in this music. The music is good throughout. But there is not a single moment which makes the listener stop and think this is really something. This album feels like a soundtrack which is supporting the pictures and the storyline. This is not a soundtrack though. It is a good album, but nothing more.
3 points