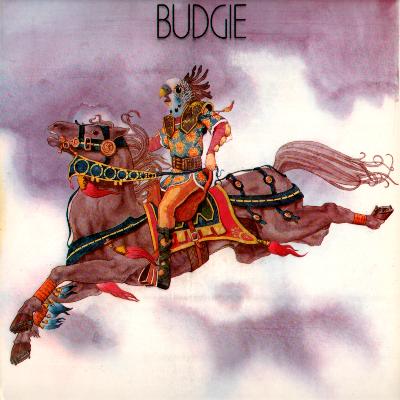 Budgie is a legendary heavy rock band from Wales which is claimed to have had a very big influence on the development of heavy metal. They were mentioned in the same breath as Black Sabbath and Led Zeppelin in a two hours long BBC documentaries about heavy metal. That made me invest in some Budgie albums.
Budgie has always been a cult band I have heard about since Metallica did some covers of them on their first EP with Jason Newsted. The legendary $ 5.95 EP. But I have ignored this bird until now.
Budgie has a reputation of doing intelligent hard rock. On this, their debut album, this clearly comes through. It is full of hard blues rock as per usual at that time. The music also boogies a lot. The vocals is a bit Rush like. The music entirely bass, guitars, drums and vocals based. The music is very cleverly crafted though with some great bass and drums. Best of all; Tony Bourge's guitar licks. Very smart guitar licks which gives the normally pretty stale blues rock new life. This is his album and the reason why this album is a good album. It has also survived the test of time.
This is quite a good and charming album in the Led Zeppelin and Rush mould. It is well worth checking out.
3 points