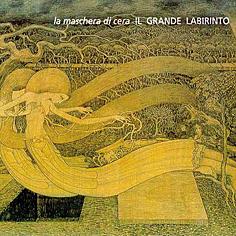 The second album from this Italian band.
La Maschera Di Cera is another one of Fabio Zuffanti's bands. Or rather, a band he plays bass and guitars in. I believe he also does most of the songwriting here.
I am a fan of the 1970s Italian symphonic prog scene and sound. No wonder that my grin almost went 360 degrees when I heard the opening minutes of this album. This album is a throwback to 1972 or there about. It has this rich, lush sound you get from moogs and mellotrons. The vocalist Alessandro Corvaglia does a great job in the vintage Italian symph prog vein. He delivers the words with passion, passion, passion and passion. Passion as in Italian lyrics and vocals. The flutes is in the right place. Ditto for the bass, piano, drums and guitars too. This album is one heck of a journey and I really enjoy what I hear.
Not everything here is brilliant. But both part 1 and 2 of Il Viaggio Nell' Oceano Capovolto is superb. The title track too is superb. The rest of the album makes me lean back in my chair while I enjoy my life and this album.
Il Grande Labirinto lacks a trademark brilliant track or two. It is not a masterpiece. But it is still a great album which is full of class, passion and Italian symph prog. Enough said.
4 points