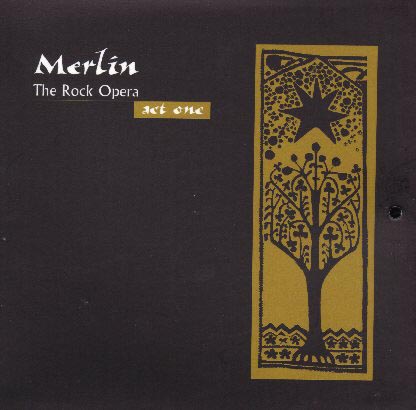 To say that having to review a rock opera filled me with joy is not entirely true. Operas is best left to the operas and the penguin suits. Rock is another culture and form of music again. Rock and opera is like combining water with fire. Fog and damp is the result.
Or rather; a musical. This is what this album sounds like. A musical. Which is another word for a rock opera.
Fabio Zuffanti is the mastermind behind Hostsonaten, Finisterre and some other bands. He is Italy's answer to Roine Stolt. Fabio Zuffanti, Steven Wilson and Roine Stolt is the most active persons in the European prog scene today. Unfortunate, Fabio Zuffanti does not get the same credit and status the two others has got. Is that due to the bias against everything not English and Northern European ? Answers in the comments field and my Facebook profile, please.
Fabio Zuffanti has not always come up with fantastic stuff. Neither has those two other abovementioned demigods. Merlin The Rock Opera is one of his sins. A sin he has remastered and re-released this year.
Merlin The Rock Opera starts with a good ouverture. From there on and in, the music is pretty dull to be honest. The music is pretty naive and follows the musical style of melody writing and lyrics. The type known from West End and Broadway. That may work well on the stage, but not on an album. Not at least when the music is not of the Phantom Of The Opera and Les Miserables quality too. Fabio's limitations as a vocalist is pretty obvious on this album too. Something I have also noted and remarked on the second Hostsonaten album. This time around, he is helped by the excellent vocalist Victoria Heward which tries to save this project. This salvage operation is aided by the usual keyboards, guitars, bass and drums. That and some other more orchestral instruments which you will find in musicals.
The storyline is OK. The excecution is a musical which sounds far better on a stage than on an album. On this album and without the costumes, musicals normally looses most of it's dynamics. Victoria's vocals are great though. The songs are pretty weak and lacks any dynamics and what I regard as good music.
This is a decent album and one best forgotten unless you are into this type of music and/or want the complete Fabio Zuffanti collection (like I do).
2 points
EPILOGUE:
I have edited this review to reflect that my first edit of this review was the result of some unprecise writing and rather unsatisfactory level of work. Something Fabio noted in a reply to my first edition. I have therefore replaced the wooly bits with more flesh and meaningful comments. Fabio's reply is under and I acknowledge he has got valid points. His note is below.