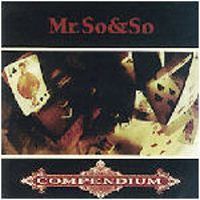 The second album from this British neo prog band. A band still gigging hard around the UK and Europe. A new album has just been released.
Great Britain and the rest of Europe had a lot of pretty dodgy neo prog bands and their releases in the 1990s. Mr. So & So is not one of those bands. They are one of the better neo prog bands.
Their setup is the normal guitars, keyboards, bass, vocals and drums setup. The sound on this album is the typical 1980s to 1990s sound. The vocals pretty laboured and stressed out. The songs are pretty good though. There is a nice, naive freshness in their songs. There are also some really interesting details here. I am by no means won over by this album. But it still have some qualities I appreciate. Check it out.
3 points