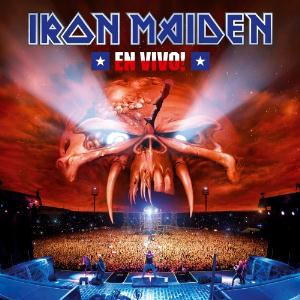 En Vivo is the last of many Iron Maiden live albums. It was recorded in Santiago, Chile during the tour supporting their latest album The Final Frontier.
All Iron Maiden live albums tends to be compared to the genre setting monumental Live After Death from 1985. That is by far their best live album ever. They have also released some very little satisfactory live albums along the way. They also had a pretty bleak time around the turn of the century. Their albums from Brave New World and to their most recent one has been brilliant though. Their live albums from this period has also been very good.
En Vivo has a very unpolished live sound. The band also does some alternative takes on some of the songs and varies them around a lot. Most of the material is from The Final Frontier and this live album is a good oppurtunity for the fans to get live versions of those songs. The other material is also good and I am always up for another version of Hallowed Be Thy Name. Running Free is a song I can live without, though.
En Vivo is Spanish for "live" and this album is exactly that. A live album. It is a good live album too and I enjoyed the listening sessions. I am an unrepentent Iron Maiden fan too so this album has found a happy home in my flat. This is a good album. It is not one of their best live albums. Neither is it one of their worst live albums too. Middle of the road, it is.
3 points