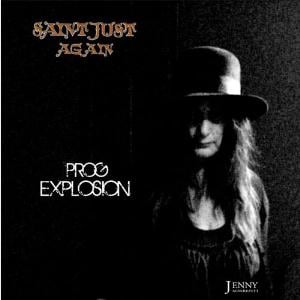 The third album from this Italian band and released under the Saint Just Again name. Their first two albums was released in 1972 and 1973.
The 2011 version of this Italian folk rock band includes again Jenny Sorrenti on vocals, backed up by Hammond organs, guitars, synth, bass and drums. The music does not have much in common with folk rock either. Not in the traditional sense, anyway.
Jenny Sorrenti's Italian vocals is keeping it together in this half an hour long album. An album with rock who loosely is based on jazz. I call it breezy, funky jazzy rock. It is not quite standard rock, but it does not really deviate far from that new modern rock basis. The huge difference is off course Jenny's very flowery, expressive vocals. Great vocals and the main thing I get out from an album whose material is not particular good. There is no really good songs here and Jenny is pretty much having to compensate for this by dominating this album. Exciting and interesting is not words I would use on the music here, Jenny apart.
This is a good album which female vocals lovers may want to check out.
3 points